Meaningful Work at Good Space: David Spence
David shares his thoughts on meaningful work, spotting talent and the complex topic of gentrification. He riffs on developing real estate by reinvigorating beautiful old buildings and how a community developed an independent spirit.
Season 1   |   Episode 2   |   July 19, 2019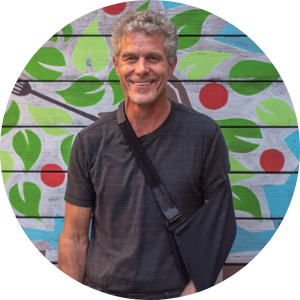 Good work, done well for the right reasons and with an end in mind, has always been a sign, in most human traditions, of an inner and outer maturity. Its achievement is celebrated as an individual triumph and a gift to our societies.

David Whyte

Crossing the Unknown Sea
These aren't typical show notes.  They're more than a recap.  As I listen back to interviews, I connect the conversation to concepts, models and tools that I use in my coaching and consulting work at Rise Leaders.
My first several podcasts are interviews with people living and taking on leadership roles in Oak Cliff, a community just south of downtown Dallas.  My husband and I were attracted to this area because of the ideals we witnessed being implemented and how the community was revitalizing.  There's a spirit and energy here that is palpable.  And a very strong sense of community.
David Spence is a commercial and residential real estate re-developer here.  His specialty is the meticulous re-imagining and re-constructing of beautiful old spaces.  If you are familiar with the area, Lucia and Dude, Sweet Chocolate are located in the Bishop Arts Building, his very first project.  This is also where the Good Space office is and where we held our interview.
David's background and credentials include Peace Corp work in Guatemala, an MBA, a law degree and a love (and talent) for fixing up old things.  This type of intellectual horsepower, paired with a commitment to community, is not uncommon here in Oak Cliff.
The Integral Nature of Structure, Culture and Individual Capacities
David cites the historic flooding of the Trinity River, which often isolated the southern sector of Dallas.  This isolation required that residents develop a sense of independence and resourcefulness.  This isn't exactly the same thing as grit, but those who built successful lives in Oak Cliff likely had it.  Even today one has to work a little harder for access to services and other basics of life when they live in Oak Cliff.
A micro example of how structure and culture shape each other:   I once had a client who wondered why no one ever stopped into her office to say hi.  She had stories she made up about the reasons why, so I suggested we meet in her office next time.  The space was filled with an imposing,  dark-wooded desk. Visitors sitting across from my client almost found themselves in the hallway.  We conspired a new configuration with the facilities team to create a welcoming space with a smaller desk and a small round table with a candy dish in the middle.  Very quickly the visitors came!  Architects take into account the flow of human energy as they design spaces.
A Complex Perspective
David shares experiences and opinions on balancing progress and preservation and on gentrification. These are complex topics, as opposed to complicated ones.  Knowing the distinction is important if your desire is to make lasting change.
I've included links to two articles on complexity.  The inc.com article is a quick read, the hbr.com article is longer with several additional links to follow.
Progress and Preservation could also be studied through Polarity Management. In short, two positive outcomes (here, progress and preservation) are seen as opposites that can be managed rather than considering them as either/or.  The intent is to maximize the positives of each pole and minimize the negative.
Meaningful Work
I botched the question about dumpster finds during our interview.  The original sentiment was not about dumpster diving but of repurposing discarded items.  As a kid, David would create useful items, like lamps, out of trashcan finds.  He has always been able to see new uses for old things. Today it's buildings – and he's really good at it!
Our long-time interests and passions are often clues to our purpose. Have you identified yours?  How does it get expressed?
David's father was "missional" regarding his work and his grandmother instilled the idea of work as being "righteous" – that it should mean something. David shares that he finds great pleasure in identifying talent and helping people find their groove. He is also an active community volunteer.
How do you feel about 'meaningful work', and do you have it?  How do you expand your focus and energy beyond your goals and tasks, to include elevating others? Do you find ways to invest in a community of which you are a member? 
Illustrations of David – What happened before recording…
A Productivity Tactic
David showed up for our interview in bright white painter's pants.  After a bit of ribbing, he explained that wearing white is a strategy he uses when he needs to stay off of job sites.  He's very hands' on with his work and doesn't love being in the office.  This day he had a lot of loose ends to tie up before a short vacation so he wore clothes appropriate for the office, not for job sites.  This tactic is supported by positive habit and productivity gurus.  James Clear, author of Atomic Habits, offers several articles on his website for creating positive habits.
Other examples of structuring your work or environment to stick with your plan:
Make your bed first thing for an early feeling of accomplishment and momentum.
Sleep in gym clothes and place your gym shoes and socks next to your bed so that you wake up ready for exercise (I actually know people who do this!).
Reward yourself for completing tasks you resist. One of my clients made a deal with himself that he could leave work early to watch his daughter practice gymnastics once he completed work he had been procrastinating (annual performance reviews). He did this again and again until all reviews were complete. The joy of watching his daughter,  joined with the feeling of accomplishment has made this approach a winning formula for him.
Burn the Boats tactic: an extreme tactic that leaves you with either no escape or very unpleasant consequences. I heard one story where a woman trying to quit smoking cigarettes gave her friend a large sum of cash to hold.  If she didn't quit, her friend was to donate the money to a cause she hated (in this case a white-supremacist group).
Stakeholder Orientation
Before we started, David made a quick call to a residential neighbor of one of his commercial tenants, a small, thriving bar on West Davis Street. The tenant's lease is coming up for renewal and before he renews it David wants to make sure they are good neighbors.  Parking can be an issue in Oak Cliff and the resident tells David that sometimes the bar customers infringe on his property with their parking choices. David offers to yellow-stripe the street so that this doesn't continue to happen.  This gesture serves everyone:  the neighbor, David and his tenant, the thriving bar.  David is a master at tending to his stakeholders.
It's a good practice to be consistently aware of those whom your business impacts through stakeholder mapping.  Most all businesses have the following stakeholders:  customers, employees, community, environment, shareholders.  Adding vendors and regulatory agencies is a common practice.
After listening to the interview and reading the notes, I wonder what your takeaway is?
Thanks for tuning in!
LeeAnn
Have Friends & Colleagues Who'd Like This podcast?
SHARE IT WITH THEM